Table of Contents: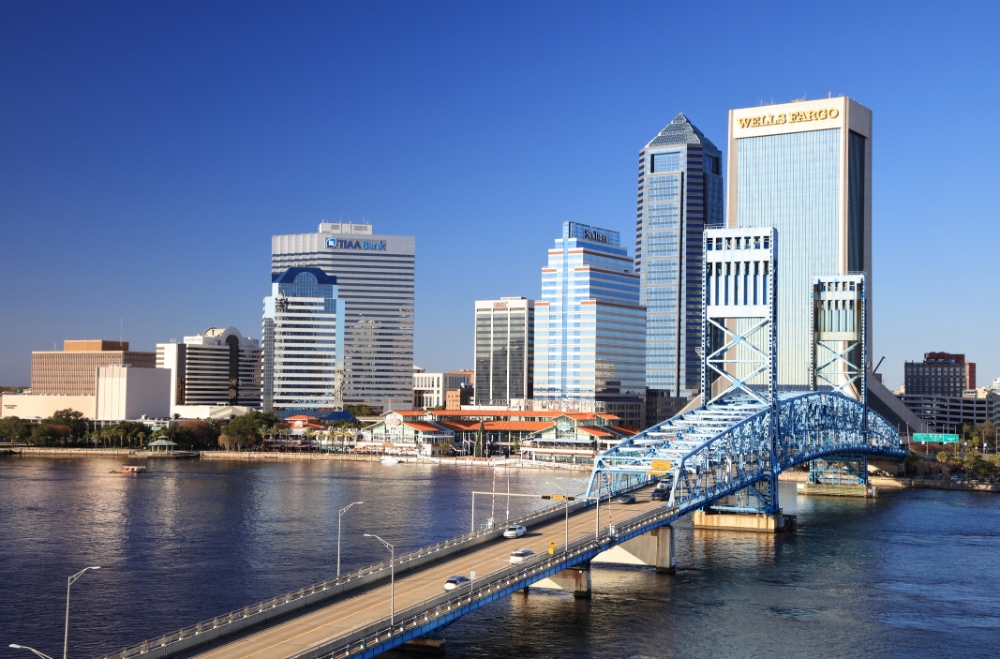 Nestled on Florida's picturesque Atlantic coast, Jacksonville is a top vacation destination and one of the best places to call home in the Sunshine State. It is Florida's most populous city with over 954,000 residents, as well as one of the largest cities by land area in the US, encompassing nearly 750 square miles.
Jacksonville boasts an amazing combination of relaxation and top-quality city amenities, offering exceptional quality of life. Its prime location in Northeast Florida puts residents right at the intersection of the I-10 and I-95 – a quick trip away from most of the Southeast.
Boasting pristine beaches and parks, fascinating museums, mouthwatering coastal cuisine, dynamic street art events, and historic neighborhoods, there's a lot to love about living in The River City by the Sea.
Want to know more about living in Jacksonville, FL? On this page, we'll take a closer look at the lifestyle, the attractions, the activities, and everything else that makes Jacksonville a terrific place to call home.
Key benefits of living in Jacksonville, FL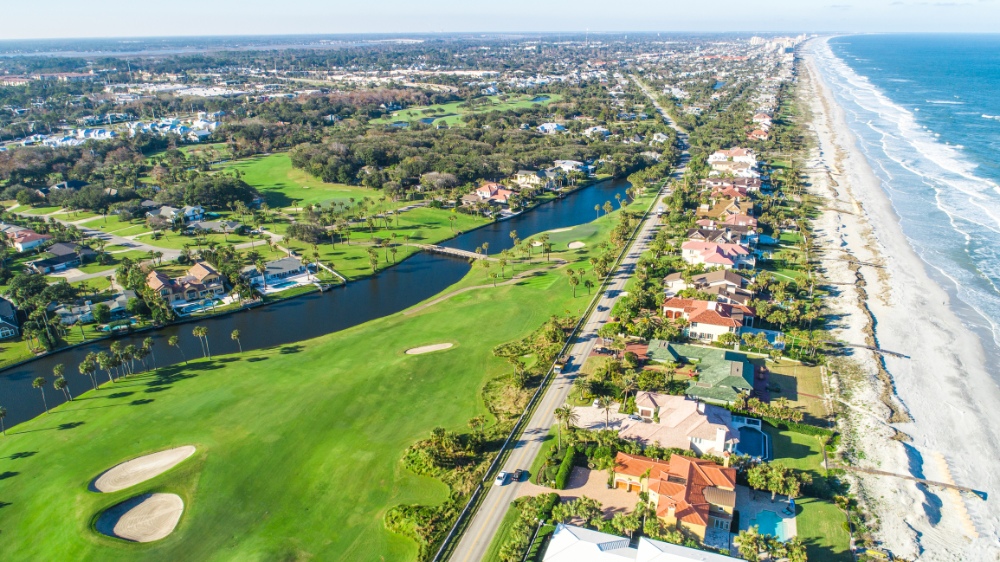 Affordable cost of living
One of the top benefits you can enjoy when you're living in Jacksonville, FL is the reasonable cost of living. Prices of commodities such as utilities, groceries, and leisure are relatively more affordable compared to neighboring cities.
For many Jacksonville residents, transportation is often the most significant expense since they use their personal vehicles to get around the city.
According to recent data from Living Cost, the average cost of living in Jacksonville is $1,860. Although this might be considered high by some measures, it is still more affordable compared to the national average. A monthly salary after tax of $4,385 will be enough to sustain a comfortable lifestyle in Jacksonville for over two months.
Prime location
Living in Jacksonville, FL puts you in a prime location that offers an exceptional quality of life, where everything you need is conveniently within reach.
Located in Northeast Florida, Jacksonville is the first major city you'll reach when you're driving along Interstate 95. One of the best advantages of Jacksonville is its proximity to a plethora of destinations and major cities. It's only two hours away from Orlando and five hours away from Atlanta. Other major cities in Florida close to Jacksonville include Miami, Tampa, and Naples.
With all of these cities a day's drive away from Jacksonville, there's no shortage of fun activities and destinations to look forward to, whether you're planning a short trip or a weekend getaway.
Wonderful weather
Jacksonville experiences long summers and shorter, relatively warm winters, with temperatures ranging from around 40 to 60 degrees. Living in Jacksonville, FL also means there's no need to deal with snow – the last recorded snowfall in the city was way back in 1989!
While it can get quite humid during the summertime, Jacksonville's northeastern location helps keep temperatures lower compared to other major cities in Florida.
Robust job market
Jacksonville's vibrant economy is fueled by its highly robust employment market.
With a consistently increasing job market, Jacksonville has become one of the major destinations for job seekers. The city is rated second overall in Florida for job growth at a rate of 14%.
Jacksonville is home to several renowned corporations and company headquarters that present a wealth of opportunities in almost any career path. FIS, Winn-Dixie, JPMorgan Chase, CSX, and Fidelity National Financial are just some of the many Jacksonville-based companies.
Additionally, Naval Air Station Jacksonville and many local academic institutions offer a range of employment opportunities for Jacksonville residents.
Incredible real estate options
Jacksonville's affordable cost of living means it's easier for prospective buyers to find homes that meet their budget and requirements.
According to research from Payscale.com, home prices in Jacksonville are currently 13% lower than the national average. The variety of choices allows you to live the lifestyle you envision, whether you're searching for a nice single-family home in the suburb, a condo within Jacksonville's vibrant urban core, or a home right by the beach.
Top-performing schools
Jacksonville is a terrific choice for families, thanks to its many top-rated public schools. In fact, the city is home to four of the highest-ranked schools in Florida: Stanton College Preparatory School, Darnell Cookman Middle/High School, Paxon School/Advanced Studies, and the Douglas Anderson School of the Arts.
For those seeking higher education opportunities, Jacksonville area colleges are considered among the best in the US, according to US News & World Report's latest rankings. Some of the top colleges and universities based in Jacksonville are:
Chamberlin University College of Nursing
Edward Waters College
Jacksonville University
The Florida State College at Jacksonville
Trinity Baptist College
University of North Florida
Breathtaking attractions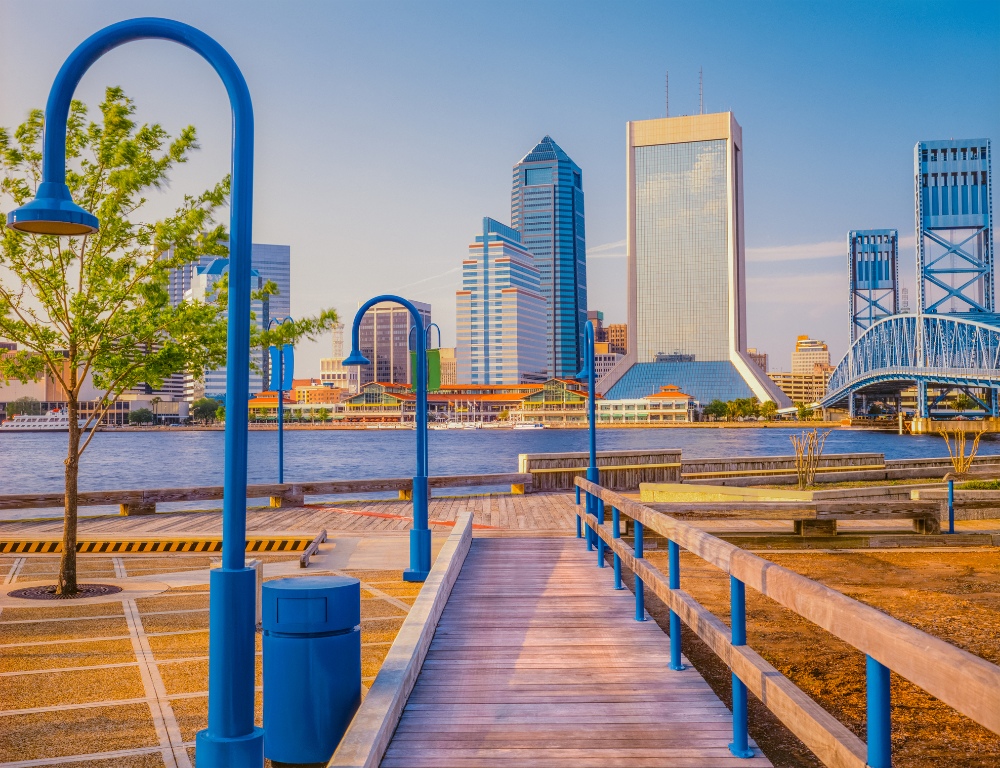 You're always a short drive away from many fun and exciting attractions and destinations when you're living in Jacksonville, FL. Whether you're looking forward to spending time outdoors, immersing yourself in arts and culture, or treating the family to a relaxing weekend getaway, there's plenty to enjoy in Jacksonville.
Here are some of the many great places to visit and activities to enjoy in and around the city:
Beaches
Jacksonville is well-known for its spectacular beaches. If you're looking forward to checking some of the best beaches in the area, be sure to add these to your list:
Little Talbot Island State Park
Little Talbot Island is one of Northeast Florida's few remaining undeveloped barrier islands. The 2,500-acre island is among the most scenic slices of Jacksonville, with its pristine five-mile shoreline, ancient dunes, and tranquil maritime forest.
The barrier island offers a wide variety of activities for outdoor lovers of all ages. It's a perfect spot for bird watching and wildlife viewing, and these are some of the best activities to enjoy here as the park is home to an array of native species.
If you want to get an up-close look at Little Talbot's untouched splendor and diverse ecosystem, the park features three miles of trails, a campground in a lush forest hammock, and kayaking along the bluffs of Myrtle Creek.
Jacksonville Beach is one of the city's top destinations, with its sugary-soft sands inviting you to sink your toes in and savor the refreshing breeze and stunning views. The city's namesake beach, Jacksonville Beach is known as one of the best beaches for surfing thanks to its rolling waves.
The best thing about Jacksonville Beach is that despite being the city's "main" beach, it's not always crowded and is a few steps away from a nice selection of shops and restaurants.
Nestled between the Jacksonville and Atlantic beaches, Neptune Beach is a patch of picturesque coastline that boasts some of the most breathtaking sunrise and sunset views on Florida's East Coast.
Neptune Beach is technically a small beachfront community, which lends a homey, laid-back feel to the place. If you want to cool down and relax with an ice-cold drink after a hot day at the beach, there are plenty of great neighborhood cafes and restaurants, as well as local boutiques nearby.
Parks
Jacksonville is known for its extensive park system, recognized as one of the best in Florida. For nature lovers and outdoor enthusiasts, living minutes away from Jacksonville's beautiful parks is one of the best reasons to move to the city.
Here's a look at some of the top-rated parks you can find in Jacksonville:
Timucuan Ecological & Historic Preserve
Timucuan Ecological & Historic Preserve encompasses a total area of over 46,000 acres, making it the city's largest park. Its landscape is characterized by a tapestry of gorgeous beaches, serene marshes and wetlands, and tranquil sea islands, making it one of the best attractions for outdoor lovers.
Activities you can enjoy at the preserve include surfing, fishing, kayaking, biking, camping, and hiking.
Pumpkin Hill Creek Preserve State Park
Nestled in Jacksonville's Northside, Pumpkin Hill Creek Preserve provides a rare glimpse of the city's untouched landscape consisting of uplands, creeks, and salt marshes.
Visitors can explore over 16 miles of hiking and multi-use trails meandering throughout the park's 4,000 acres to enjoy an unforgettable adventure. For birdwatchers, the park is home to a wide variety of avian species such as roseate spoonbills, owls, bobwhites, wood storks, songbirds, egrets, and more. If you visit during the winter, be on the lookout for American bald eagles nesting in the pines!
Shopping
Looking forward to a fun day of shopping? Whether you're on the hunt for the latest fashion finds, shopping for unique gift items, or just treating yourself to an afternoon of well-deserved retail therapy, Jacksonville's shopping venues will surely satisfy.
Here are several excellent shopping destinations in and around the area:
Riverside Arts Market (RAM) is a weekly art and farmers market featuring an array of small businesses. It takes place at the Fuller Warren Bridge every Saturday from 10 AM to 3 PM, attracting more than 3,000 visitors every week.
You'll find rows of local artists, makers, bakers, and artisans selling a diverse assortment of wares including plants, handcrafted jewelry, art, candles, and homemade bath and body products – all made locally.
After shopping, make your way to the riverfront amphitheater to catch live music and dance performances by local artists.
Located in the heart of nearby Neptune Beach, Beaches Town Center combines high-end shopping with spectacular ocean views.
The picturesque shopping venue is home to a vibrant mix of upscale fashion boutiques, specialty stores, fitness centers, and restaurants, all spread across beautifully landscaped courtyards and bricked walkways.
Located in the heart of the Avondale neighborhood, the Shoppes of Avondale is an enticing collection of locally owned boutiques, dining venues, bars, and art galleries within a highly walkable oak tree-lined district.
Shoppes at Avondale is part of Jacksonville's historic Riverside/Avondale neighborhood, which is listed in the National Registry of Historic Places. Be sure to drop by the nearby "Five Points" area, which features its own collection of outdoor cafes, antique shops, nightclubs, and more. You can also go on a self-guided tour or join a guided bike excursion to get an up-close look at Riverside/Avondale's grand city parks and architecturally significant structures.
Dining
Jacksonville is home to an eclectic dining scene shaped by a melting pot of cultures and flavors. You'll find a diverse mix of dining venues ranging from down-home seafood shacks to upscale fine dining bistros, all serving mouthwatering dishes guaranteed to please your palate.
Be sure to check out some of these top-rated Jacksonville restaurants:
Opened in 2000, Bistro Aix treats diners to innovative French-inspired cuisine in a relaxed casual atmosphere.
Located in the historic San Marco District, this award-winning restaurant sets the mood with elegant 1940s brickwork, intricate marble sculptures, and sleek black leather booths – perfect for enjoying bestsellers like their crispy calamari, creamy onion soup, and selection of wood-fired seafood and meat dishes.
For over 25 years, this Avondale/Riverside dining district staple has delighted countless guests with its classic American fare infused with flavors of the South, all made with fresh, locally sourced ingredients.
While everything on their menu is definitely worth a try, their grilled NY strip is definitely a showstopper. It's seared to golden brown perfection and served with shaved parmesan, green peppercorn and pumpkin seed pesto, smashed marble potatoes, and smoked pear onion-arugula salad.
Indulge in Chef Sam Efron's modern interpretations of classic Italian favorites, all masterfully crafted from fresh seasonal produce and the finest ingredients.
This top-rated San Marco restaurant has earned several accolades since it opened in 2009 and is the go-to choice for diners looking for an authentic Italian dining experience in a rustic yet sophisticated setting.
Museums, historic sites, and arts and culture venues
Jacksonville sits right in the heart of a historically rich region that is home to a plethora of historic sites and points of interest. Revisit the city's past or immerse yourself in culture and the arts by visiting these interesting destinations below:
Cummer Museum of Arts & Gardens
Art lovers will enjoy exploring Cummer Museum's historic gardens, set on over 2.5 acres along the banks of the St. Johns River. Located in Jacksonville's upscale Riverside neighborhood, Cummer Museum features a mix of art, nature, and education, inspiring visitors of all ages.
From a core collection of 60 pieces originally owned by civic leader Ninah M.H. Cummer, the estate now features more than 5,000 works of art.
Museum of Science & History (MOSH)
Jacksonville's Museum of Science & History aims to make science, history, and innovation fun for visitors of all ages.
This state-of-the-art museum boasts three levels of exciting interactive exhibits including award-winning core exhibits like "Atlantic Tails" and "Currents of Time," the latter of which covers over 12,000 years of Northeast Florida's history. Among its highlights is the fascinating Florida Naturalist's Center, which features a variety of species native to Northeast Florida.
For a truly unforgettable experience, MOSH's Bryan-Gooding Planetarium – the world's largest single-lens planetarium – offers a fascinating glimpse of the innovation and history behind space exploration.
Built in 1798, Kingsley Plantation is one of Florida's last remaining plantation homes, providing an opportunity for visitors to take a step back in time to get a glimpse of the region's colonial heritage.
Admission to the venue is free, and ranger-guided tours and audio tours are available daily.
Fort Caroline National Memorial
Fort Caroline gives visitors a glimpse of the short-lived French colonial presence in Florida during the 16th century.
Here, you can learn about stories of survival, exploration, disputes, territorial skirmishes, and the first contact between Native Americans and Europeans.
Located just a few steps away from the visitor center is a fort exhibit overlooking the St. John's River. The said exhibit offers a scenic and insightful journey on trails throughout preserved habitats. Fort Caroline offers nature walks, history tours, and a Junior Ranger Program.
Jacksonville Center for the Performing Arts
For aficionados and lovers of classical music, Jacksonville Center for the Performing Arts' Jacoby Symphony Hall is known for having some of the finest acoustics. It is one of three theaters located in the center and is the home of Jacksonville Symphony, one of the most revered cultural institutions in Northeast Florida.
The sprawling state-of-the-art, three-venue facility hosts a wide range of events and performances from community recitals and symphony orchestras to touring Broadway shows. In addition to its top-rated performance venues, the center's expansive lobby and reception area is a space for social events, meetings, and dinners.
Find your dream home in Jacksonville today
These are just some of the many great reasons to live in Jacksonville, FL!
If you're searching for the best homes for sale in the area, we're ready to go above and beyond to help you fulfill your goals in this exciting market! At Kellar Realty, we take pride in providing an unparalleled level of client service through our in-depth market knowledge and proven strategies.
Whether you're buying, selling, renting a home, or searching for a property manager, you can count on our team to provide the service you need to achieve your goals.
Get in touch with us at Kellar Realty today! Call us at 904.269.SALE(7253) or email us here.