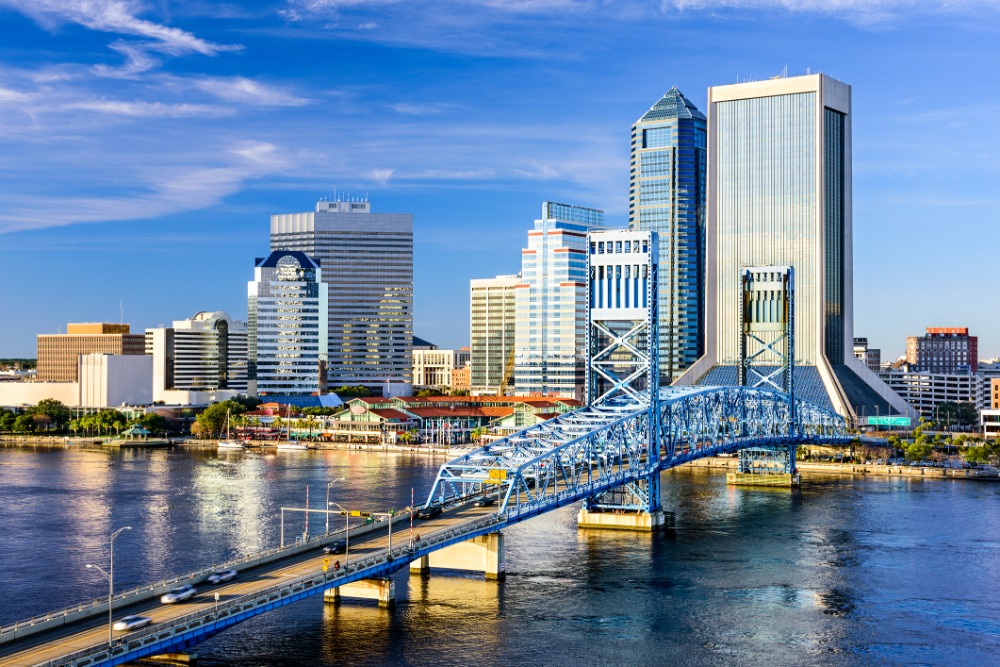 Thousands of visitors and vacationers flock to sunny, warm, and welcoming Florida every year. Some even decide to stay longer, eventually making The Sunshine State their permanent home. Real estate data from 2020 to 2021 showed that Florida was the number one state people relocated to for both years.
One of Florida's most popular locations is Jacksonville, and it's easy to see why. As the largest and most populous city in the state with nearly a million residents, the so-called River City is a thriving metropolis that boasts plenty of attractions on both water and land. For those looking for the best location to put their real estate money on, take a look at what Jacksonville has to offer.
Key highlights
About Jacksonville, FL real estate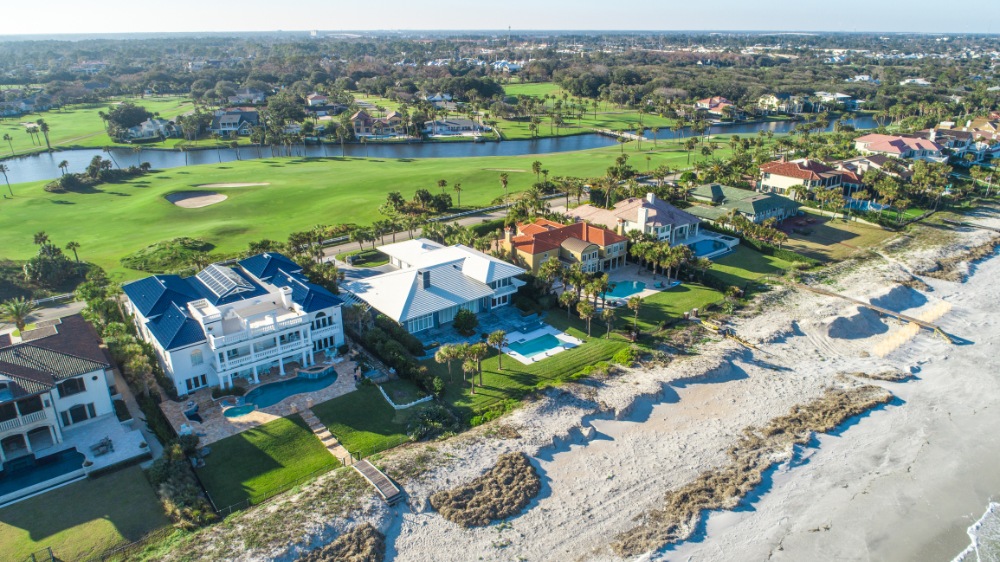 Gorgeous homes in a gorgeous setting: Ponte Vedra Beach in Jacksonville, Florida
The Jacksonville, FL real estate is experiencing a boom as of late, continuing to build on the market's strong momentum from 2021. In the wake of COVID-19, Jacksonville's housing market managed to perform better than many other urban areas. Currently a hot seller's market with an environment conducive for investing, Jacksonville is poised to enjoy an upward home sale trend in the near future, which means buying a Jacksonville property is likely a profitable venture for interested real estate investors.
By the numbers
As of January 2022, the median price for homes in Jacksonville skyrocketed to  $310,000. This represents a 23.4% increase in value from the 2021 record high of $251,200, which saw 41.5% of listed homes selling for more than market value. By comparison, the median home value in Duval County is $184,600, further demonstrating how sought-after the properties are in the state's most populous city.
Almost 50% percent of Jacksonville properties are owned, while 37.4% are occupied by renters. Only 12.77% are vacant, and that number is dwindling at a rapid pace with each passing day. On average, homes listed for sale see an average of 43 days on the market before being snapped up by a buyer.
Within the past decade, Jacksonville's population grew to over 100,000 residents, becoming one of only 14 American cities to do so. The city saw the strongest surge in population between 2017 and 2018, adding 12,000 residents. In the last year, the population growth rate in the metropolitan area was 1.62%.
From 2021 to date, Jacksonville properties appreciated by a rate of 17.64% – the highest in the country. In the last quarter alone, properties appreciated by 6.32%. The neighborhood of Mandarin is considered the most expensive, with homes listed at $544,000. Meanwhile, the title of the most affordable neighborhood goes to Jacksonville Heights, where homes cost an average $199,900.
Taking these numbers into account, the Bureau of Economic and Business Research (BEBR), an applied research center at the University of Florida, predicts an additional 800,000 people will move to the city within the next 10 years. The center also expects the city's current population to double to two million in the next 25 years.
4 great reasons to buy a home in Jacksonville, Florida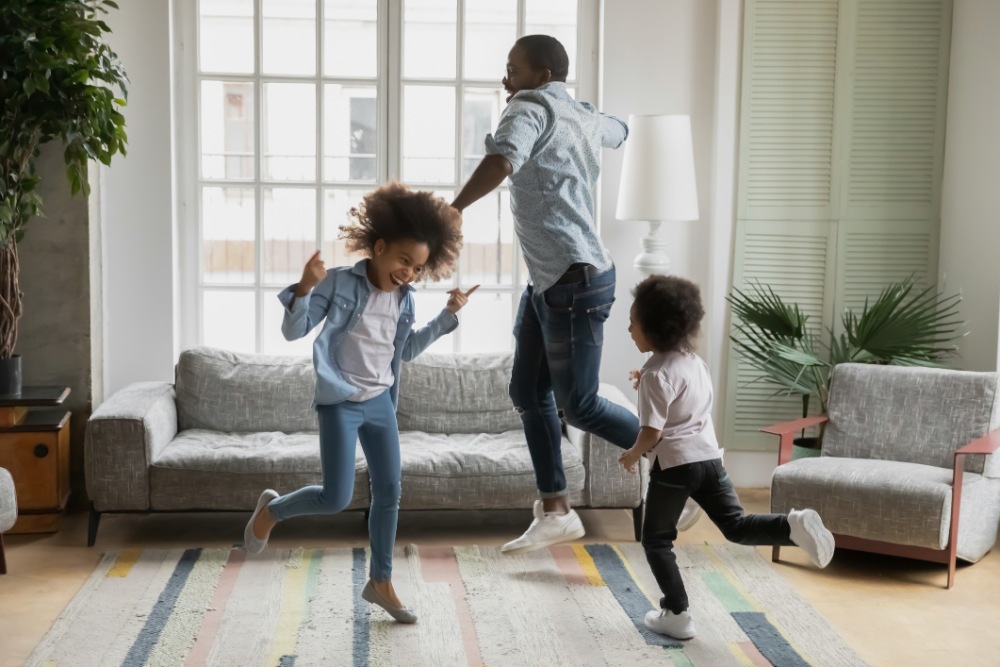 Enjoy the low cost of living and high quality of life in Jacksonville, FL
Whether you plan to buy a home for yourself or as an investment, Jacksonville definitely deserves your consideration. As Florida's hottest real estate market, Jacksonville offers the perfect combination of affordability and high property appreciation. That's why so many people are putting their money on many of the available properties here.
Here, then, are four reasons you should consider putting your money on Jacksonville property.
It's affordable

Even when the median home value has topped $300,000, it's still within the price range of most homebuyers, especially when compared to America's most expensive locations. For instance, average home prices in Los Angeles, CA, Arlington, VA, Honolulu, HI, exceed half a million dollars. Nevertheless, it's worth noting that while homes are affordable now, their values are rising fast, which means now is the best time to close on a Jacksonville property.

The tax benefits are insane

Florida does not collect individual income tax, which is especially rewarding for people who want to maximize their earning potential. The absence of individual income tax not only applies to sole investors, but partnerships and limited liability companies as well.

Additionally, Jacksonville has 21 Opportunity Zones, specific areas that offer better tax credits and other incentive programs for businessmen and investors looking to own a property in the city.

Jacksonville is one of the fastest growing economies nationwide

Within a short period of time, Jacksonville has emerged as one of the nation's fastest growing economies. As of October 2021, the city's unemployment rate was 3.7%t, which was much better than Florida's (4.6%) or the rest of the country's (4.2%).

Construction jobs surged in February of 2022r – a good indication that economic growth is poised to accelerate even further. A diversified industry base further makes the Jacksonville economy more resilient to crises such as the COVID-19 pandemic. All these point to a stable economy and clear potential for growth.

Low cost of living, high quality of life

Known for being a big city with a small-town vibe, Jacksonville exudes a pleasant community feel, and the cost of living is surprisingly low compared to a lot of major cities. Speaking of major cities, Jacksonville is just within a day's drive to other big Florida urban locations such as Miami, Tampa, and Naples. Of course, there's the shoreline to speak of – the longest in the US with pristine sandy white beaches. For those looking for the ideal seaside home, the views and amenities offered by the beachfront properties here are hard to beat.
7 benefits of hiring a Jacksonville, FL Realtor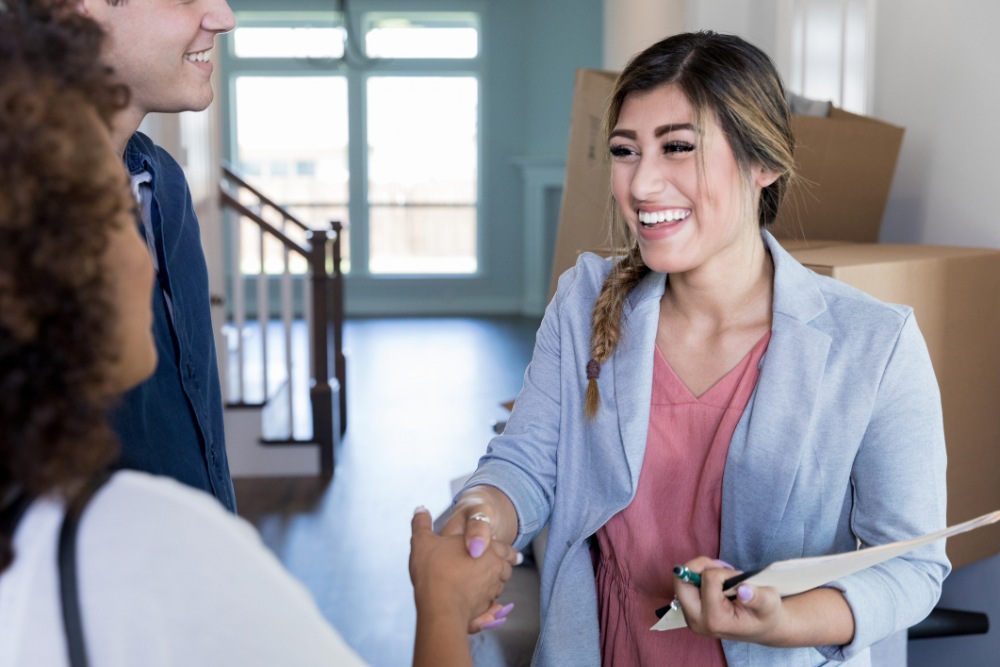 Ready to begin your real estate journey? Then you'll require the help of a Jacksonville, FL Realtor. Why do you need one, you may ask?
Get to know the benefits of hiring a Realtor to help you find your next home.
You'll get a better price, find a better home

When you work with a Jacksonville, FL Realtor to buy a home, you are guaranteed to get your money's worth. A knowledgeable Realtor knows when a home is overpriced for the neighborhood it's in and vice versa. Even when a seller won't budge on the price, your Realtor can still help you get the most for your budget by ensuring the quality of the home, asking for additional perks, having the owner shoulder repairs, etc. Simply put, with a Realtor by your side, you maximize the benefits of your home purchase.

You'll have intimate knowledge of the neighborhoods

Jacksonville, FL Realtors have unique insight about the city in which they work. This can be useful in helping you assess the value of the property – not only from a price standpoint, but quality of life, as well. They can provide you key information on important facilities such as groceries, shops, school, and transportation options. Likewise, they can tell you about the area's future opportunities such as infrastructure construction plans that could make your property more valuable down the line. Only with a local Realtor will you know which neighborhoods are ideal for your specific needs.

You'll have your paperwork in order

The entire home purchase process involves tons of paperwork. Federal and state documents, counteroffers, settlement statements, disclosures and more. It's easy for a homebuyer to get overwhelmed by all the paperwork that must be accomplished in the course of the transaction. You can save yourself the trouble by partnering with an experienced Jacksonville, FL Realtor who can handle all, if not most, of the paperwork for you.

You'll save time

From finding the right home in the right community, to negotiating with sellers, to handling all the documents – once an agent knows your specific needs, they can get to work right away so you can move through the home buying process smoother and faster. With a Jacksonville, FL Realtor's guidance, your valuable time will be used efficiently up until final papers are signed and the house keys handed to you.

You'll have a keen and objective eye to serve as your guide

Disagreements are part and parcel of a home purchase. Considering the money involved and the personal nature of the purchase, it can sometimes be difficult to keep emotions in check when there are hiccups along the way.

An experienced Realtor can allay fears, provide perspective, and provide you with the services you need to meet your buying objectives while hitting your target budget. Likewise, Jacksonville Realtors have no emotional stake in the process, so they can function as your objective eye, helping you avoid potential disasters that could ruin your chances of owning a property in Jacksonville.

You'll avoid costly mistakes

The road to home ownership is riddled with obstacles, and many of these potentially costly mistakes can be avoided when you have a skillful Realtor by your side. For instance, a Jacksonville Realtor can ensure the house you're interested in is properly inspected from top to bottom so you won't have any unpleasant surprises when you've already moved in. A Realtor can also protect you from disclosing any important information that could put you at a disadvantage during negotiations. Protection from significant losses is one of the most important reasons it's wiser to work with a Realtor than without when buying a home.

You'll have access to a network of real estate professionals

Experienced Realtors in Jacksonville, FL are well acquainted with just about everyone engaged in the real estate business, from builders to lenders, repair and maintenance service providers to inspectors and lawyers, and so on. Many will have a list of top and trusted providers you may not have access to if you decide to buy your house on your own. This network can be especially beneficial for first-time Jacksonville investors who plan to buy more properties in the future, as it allows them to build a trustworthy network of professionals for succeeding purchases.
How to tell when you're working with a good Jacksonville, FL Realtor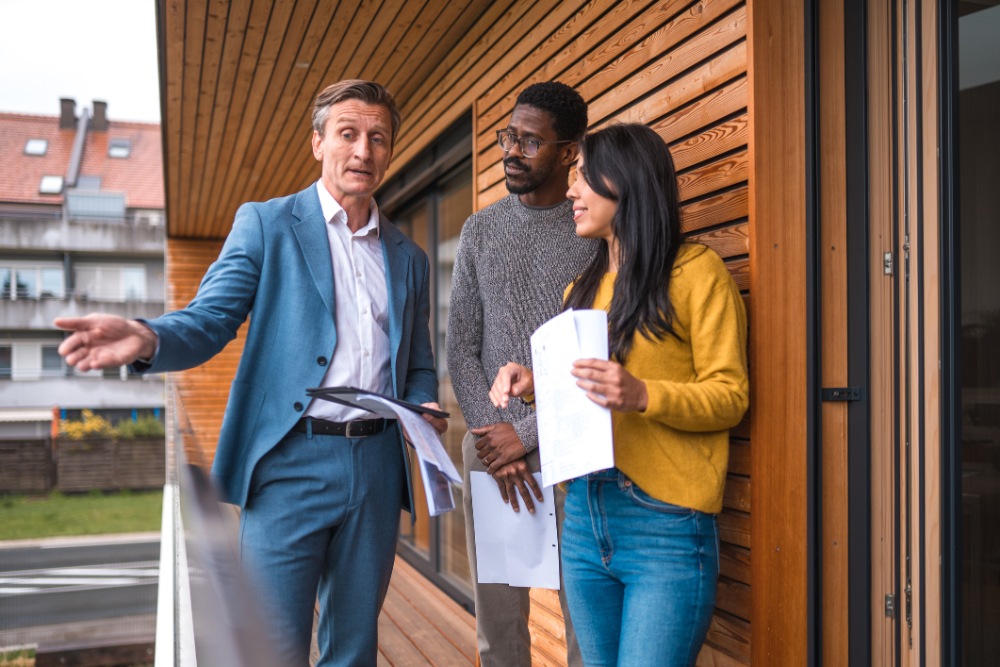 Partnering with the right Jacksonville Realtor when buying a home is vital to the success of the entire transaction. Here are signs that you've chosen the ideal Realtor for your property-buying needs.
You enjoy working with them
You want to know that you can trust your agent completely, and that you're comfortable sharing your personal information with them and asking them questions. Different Realtors have different styles of communicating with their clients. Thus, your Realtor should be someone you like to work with, and whose communication style you prefer. You don't want to be dealing constantly with a person you don't like, especially when the transaction hits a few difficult bumps.
A good Realtor tailors their service around your needs
Your home buying needs are unique to you and you alone, and your Realtor must understand that. Whether you are an inexperienced homebuyer or going through your nth real estate transaction, you will want an agent who engages with you meaningfully, who truly listens, and who constantly takes your priorities into account. A good Realtor will always explain to you how they can customize their services to suit you, because they understand that the client always comes first.
A good Realtor is easy to reach and replies in a prompt manner
Your Realtor doesn't have to reply within seconds of sending your query, but they should make it a point to respond to you as quickly as they can, and never leave any of your questions or concerns unanswered. Good Realtors will always reply within a sensible timeframe. If they are busy at the moment, they'll let you know about it, and get back to you as soon as they are available. Of course, for your part, you should respect their time outside normal business hours. Remember that they have a life outside of their job, too.
A good Realtor takes the initiative
This is the one characteristic that separates the right Realtor from the rest of the pack. The right Realtor will not sit back and wait for you to ask questions or air your concerns. Instead, they take the initiative, performing proactively in helping you find the right solutions to any real estate predicament you may face.
For instance, when a home purchase transaction nears its end, all kinds of pitfalls can cause the deal to fall through, such as the title of the house may not be clear, or financing was abruptly pulled by the lender. A good Realtor is used to dealing with these types of challenges and will already have a plan in place should problems arise.
A good Realtor is not afraid to tell you what you need to hear
Although brutal honesty can be uncomfortable, it is essential for establishing genuine trust in a relationship. Thus, a good Realtor will not be afraid to tell you the truth, even if it costs them the sale. If your Realtor is a true expert, they will not hesitate to tell you the unvarnished truth – but continue to offer you reasonable and well-researched solutions.
4 important questions to ask before choosing your Realtor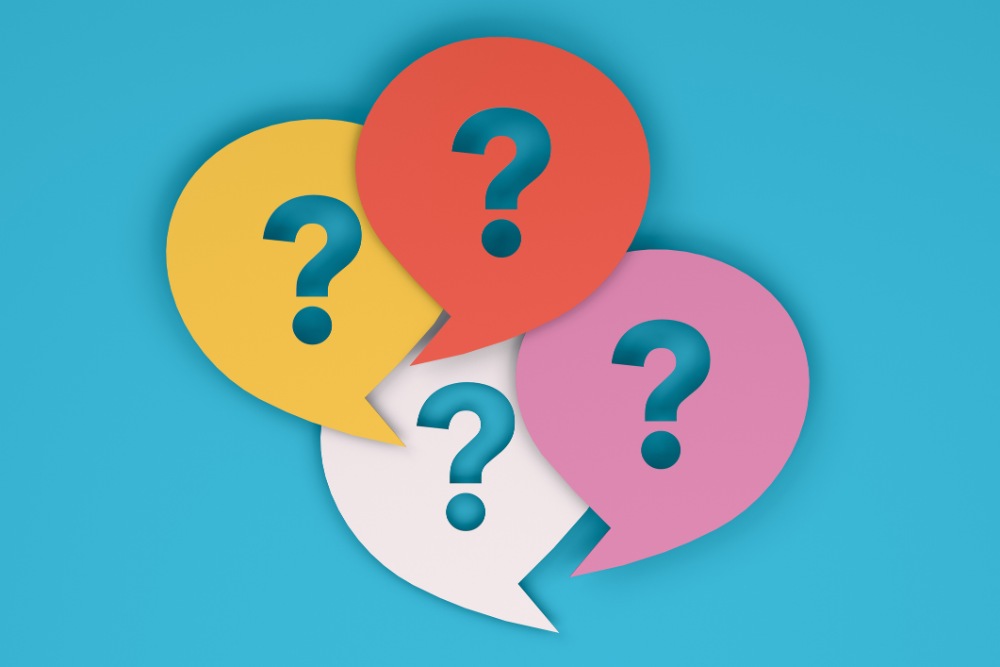 Arguably, the first step you should take in your home buying journey is to choose your Jacksonville Realtor. This way, you'll know that you're on the right track from beginning to end.
That said, choosing the right Realtor requires due diligence on your part. During your initial consultation with a Realtor, be prepared to ask the following questions to know if they are, indeed, the right one.
How long have you been a Realtor?

Experience matters when choosing a Jacksonville, FL Realtor. That's because agents who lack the years may still be feeling their way around a home purchase. They might miss details and documents, and a single mistake could put the transaction in jeopardy.

How many properties have you handled in the area?

This question reveals the breadth of the agent's professional experience in terms of the number of transactions they've been involved in and their success rate in the community. You'll want to know the price range of the deals they've closed. You'll also want to obtain the contact information of some of their latest clients so you can check out the agent's recent working relationships.

What can I expect from you?

A reliable Jacksonville, FL Realtor will be forthcoming about the services you can expect from paying the full commission. Realtors worth their salt will be more than willing to provide you proof of the level of service they are capable of delivering. That said, most Realtors are flexible with their commission. In case you plan to negotiate for a discount, understand that the responsibility of some of the home buying steps (filing of certain documents, for example) might fall on you. Be prepared to pay extra for the completion of certain services if you plan on haggling down commissions and the like.

What if I'm unhappy with your service?

A trustworthy Realtor will not force you into a working relationship you're not comfortable with. Even if you are required to sign a contract, your Realtor should still offer an out if you are no longer happy with the partnership. Asking this question allows you to discuss what you need to do should you decide to take a different route with your home buying journey.
Work with Kellar Realty for your Jacksonville, FL home purchase
Whether you plan to buy or sell your home in Lake Asbury, Fleming Island, Orange Park, Jacksonville, St. Johns or St. Augustine, the Kellar Realty team has all the right qualifications to ensure your transaction proceeds as smoothly as possible. From first-time homebuyers to long-time property investors, we provide the same high level of care and service to everyone. Talk to us about mortgages, specific guidelines, and other real estate-related questions you may have about buying a house in Jacksonville, FL. We will be happy to accommodate you.
Call Kellar Realty at 904.269.7253 or contact us here.